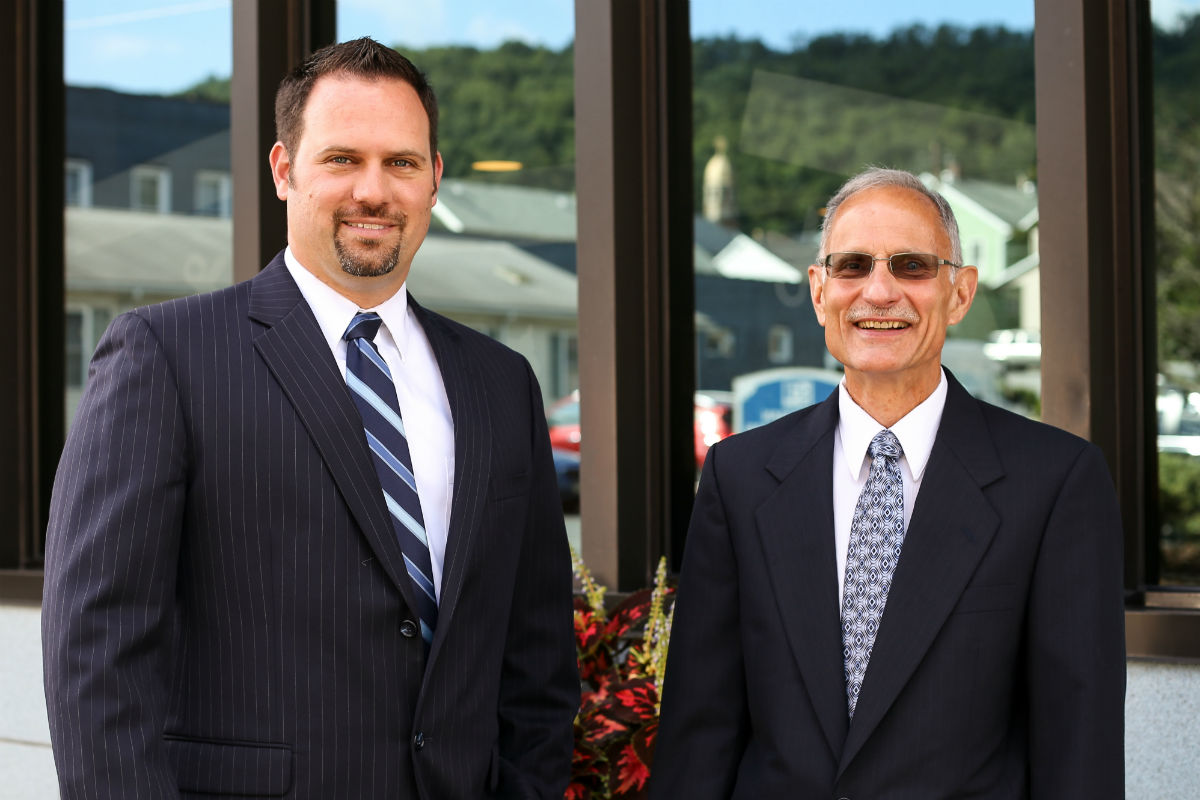 William S. "Bill" Tomaskovich (right), who began his career as a teller at Slovenian Savings & Loan in 1973 and worked his way up to president, has retired, effective September 30, 2017. He is succeeded by Louis Vuckovich (left), who is becoming just the fourth president in the organization's history.
"I'm proud of everything Slovenian Savings & Loan has accomplished during my time there, growing to a full service financial institution with more than $130 million in assets," Tomaskovich said. "But I am confident that, under Lou's leadership, Slovenian Savings & Loan will continue to be successful in the future while maintaining our roots in the community."
A Johnstown native, William Tomaskovich graduated from Bishop McCort High School in 1969. He continued his education at Penn State, earning a B.S. in finance in 1973, beginning work at Slovenian Savings & Loan shortly thereafter. He began as a teller, but quickly moved up the ranks as the organization grew, holding virtually every position before becoming president in 1999. While working, Tomaskovich earned a B.S. in accounting from St. Francis in 1980.
Tomaskovich's career milestones at Slovenian Savings & Loan include more than doubling the total assets, overseeing the opening of four new branch offices in Moxham (1986), Richland (1995), Windber (1997) and West Hills (2006), and the introduction of several new products and services to better serve the customers.
"On a professional level, it was an interesting challenge to lead the bank in so many different economic conditions — growth to recessions, and everything in between," Tomaskovich reflected. "But the most meaningful part of my job was helping people to achieve their dreams — owning a home, buying a car, educating their children and making better lives for themselves and their families."
Tomaskovich and his wife, Florence, are the parents of two adult children. His son, Stephen, is married to Diane (Harris) in Lancaster, while his daughter, Nicole, is married to Travis Czyrnik of Johnstown. He is the proud grandfather of Andrew, Gavin, and Riley.
Louis Vuckovich, a Conemaugh Valley graduate, has over 15 years of banking experience within the Association through various roles including internal audit, BSA officer and assistant board of director secretary. Vuckovich will continue the exceptional customer service that has been Slovenian Savings & Loan's backbone for over 100 years. 
"My intention is to continue to stress providing excellent service to our customers while assisting them with their financial goals," Vuckovich said.
Louis attended the University of Pittsburgh at Johnstown, graduating with a Bachelor of Arts in Business concentration in Accounting while lettering in baseball. Furthering his education, he earned a Master of Business Administration (MBA) from St. Francis University. In an effort to continue his local leadership growth, Vuckovich is also a John B. Gunter Leadership Initiative Graduate through the Cambria County Chamber of Commerce. 
Currently residing in Richland, Lazo and his wife Kathryn are proud parents of daughter Grace and son Jakob. He looks forward to the challenge of leading Slovenian Savings & Loan into the future of the ever changing banking world.