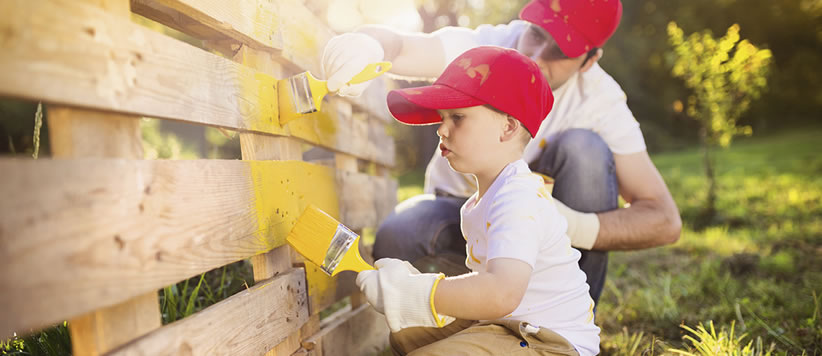 Are you a homeowner? You may be able to use the equity you've built up in your home to borrow money for any purpose — including home improvements or renovations, debt consolidation, or college tuition — through a loan with Slovenian.
There are two ways you can borrow money using your home as collateral — a home equity loan or a home equity line of credit, or HELOC, for short. Both loans are secured by your home, may have significantly lower interest rates than credit cards, and generally involve fees in order to originate. Depending on the situation, either may be of benefit to you.
How home equity loans work
With a home equity loan, the homeowner borrows a fixed sum at a fixed interest rate. You receive the loan money in one lump sum, and make fixed monthly payments to pay it back. Interest paid on a home equity loan may be tax deductible, consult your tax advisor for more details.
In most cases, a fixed rate home equity loan could be used for a consolidation of debt, fund a home improvement, or pay for college tuition. One of the key factors to consider is when you need the money to work for you. Since the lump sum will be made at closing, interest will be charged on the full amount of the loan from the start.
How HELOC works
Home Equity Line of Credit (HELOC) works a little differently from traditional loans (including home equity loans). In this case, the bank approves the homeowner to borrow up to a certain amount of money, based on the value of the home. You can then borrow up to that amount of money by writing a check, as whenever you need it. It's a flexible, revolving line of credit secured by your home.
This flexibility allows you to only advance what you need in relation to the maximum loan amount. Each month you will make a monthly principal and interest payment based on the outstanding balance. As you pay down your line of credit, you will still have access to the difference between the amount owed and the maximum line of credit you originally took out. Depending on your situation, a HELOC could be considered an option to fund your need.
The major advantage of a HELOC is its flexibility. However, unlike home equity loans, a HELOC has a variable interest rate. As interest rates rise, this loan will cost more in interest when compared to a Home Equity Loan.
How to choose between a HELOC or home equity loan
Home equity loans or HELOCs are suitable for people who own their own homes and have built up a reasonable amount of equity in them. They can be used for virtually anything.
HELOCs are generally better for people who have long-term, ongoing expenses – such as education expenses or medical bills – because of their flexibility. Home equity loans are often better for fixed, one-time expenses, such as a major home renovation or consolidation.
Stop into Slovenian Savings & Loan for more information about using your home equity to borrow money. We'll be happy to review your specific situation and explain the pros and cons of each route.