The history of Slovenian Savings & Loan is a very proud one, built with a cornerstone of local roots and community interests. This philosophy remains true today and continues driving our progress and growth.
A group of 20 local people first met at the Slovenian Community Center, located in Franklin Borough, with a mission of finding a way of helping friends and neighbors with little or no collateral to fulfill their dreams for home ownership. The group organized Slovenian Savings & Loan Association and opened its first office in 1915 on Railroad Street in Conemaugh. The primary goal was promoting savings and home ownership in the community. Anton Gabrenya was elected secretary and became the first and only employee. In the first year of operation, Slovenian Savings & Loan assisted 13 people in the purchase of their homes.
Anton Gabrenya continued to grow the business for the next 25 years until it was time for his son to follow in his father's footsteps. In 1940, Robert A. Gabrenya was hired to assist his father and became just the second employee in its history. By 1945, two more employees joined Slovenian Savings & Loan and the growth would continue in the years to come.
In 1952 the current main office was constructed where it stands today at 361 First Street, Conemaugh.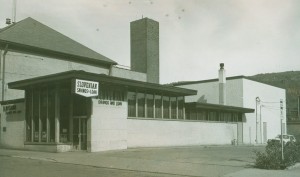 After over 55 years of service, Anton Gabrenya retired in 1971. Robert A. Gabrenya was named the new manager of Slovenian Savings & Loan, the second person to head the company. Robert continued to guide the growth until his retirement in 1999. During his tenure, an expansion at the main office in Conemaugh was completed in 1978 and new branch offices were opened in Moxham (1986), Richland (1995) and Windber (1997).
In 1999, William S. Tomaskovich was promoted to manager of the Conemaugh Branch following a career that began as a teller at Slovenian in 1973. After a successful 44 year career, which included holding virtually every position and doubling the assets of the Association, Tomaskovich retired in 2017.
Louis "Lazo" Vuckovich was named the fourth President in Slovenian Savings & Loan history. Vuckovich, a Conemaugh Valley and University of Pittsburgh at Johnstown graduate, has been with the Association in various roles including Internal Audit, BSA Officer and Assistant Secretary on the Board of Directors. Louis looks to continue the exceptional customer service that has been Slovenian Savings & Loan's backbone for over 100 years.
From this humble beginning in 1915, our company has grown into one of the leading financial institutions serving the surrounding area. It makes us extremely proud to be able to continue saying what we've been saying for years…
We're big enough to serve you, small enough to care.